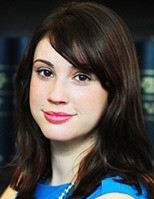 Michele Redfield is an Administrative Assistant working diligently under Dr. Adam Yanke in the Sports Medicine Department at Midwest Orthopaedics at RUSH. Michele is dedicated to ensuring that the daily operations of his practice run smoothly and efficiently.
After graduating from the University of Illinois at Chicago with a Bachelors in Psychology, she began working at RUSH shortly after in September of 2013. Prior to working at RUSH during her years of study, Michele worked for multiple different organizations through the University. These include Campus Housing as a Summer Assistant and Campus Recreation as a Member Services Assistant.
Other accolades for Michele include volunteering with the Big Brothers Big Sisters program, working with the Crisis Hotline, and involvement in various charitable organizations such as The Bear Tie Ball and The Leukemia & Lymphoma Society Illinois chapter.
These aspects of Michele all contribute to her hard working, passionate attitude and demeanor both in and outside of the office. Her roles and responsibilities as an Administrative Assistant include but are not limited to scheduling surgeries and appointments, managing Dr. Yanke's schedule, and being the first/ primary contact should patients have questions regarding the practice she is in charge of. Outside of work, Michele is interested in art, music, dance, and volunteering.