Case Presentation and Review of Osteochondral Allograft Reconstruction of the Shoulder and Knee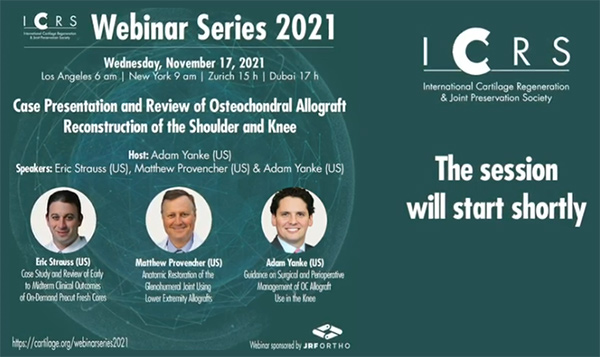 Orthobiologics Tonight! Focal Chondral Defects
Midwest Orthopaedics at Rush gets NIH research grant
Surgeons at Chicago-based Midwest Orthopaedics at Rush received a grant from the National Institute of Health to research donor knee cartilage.
The NIH grant was awarded to sports medicine physician and professor Adam Yanke, MD, PhD, and professor Nozomu Inoue, MD, PhD, according to a May 25 news release.
Dr. Yanke and Dr. Inoue are co-principal investigators and will study the properties of donor knee cartilage to identify how to best match it with cartilage transplant patients. They will also evaluate the effectiveness of using less expensive and cumbersome imaging to study donor cartilage.
Please Click here to read more.
First National Institute of Health (NIH) Grant Awarded to Rush Sports Medicine Surgeon
For the first time in Midwest Orthopaedics at Rush (MOR) history, one of its sports medicine physicians has been awarded a National Institute of Health (NIH) grant as a Principal Investigator (PI). Adam Yanke, MD, PhD, Midwest Orthopaedics at Rush surgeon and Assistant Professor, Department of Orthopedic Surgery at Rush University Medical Center, and Co-PI Nozomu Inoue, MD, PhD, Professor, Department of Orthopedic Surgery at Rush University Medical Center, will study the properties of donor knee cartilage to identify how to best match it with patients undergoing cartilage transplantation. Dr. Yanke is also the Assistant Director of the Cartilage Restoration Center at Rush, which has helped pioneer many cartilage transplantation techniques over the last 15 years.
Valparaiso man planning to hike Grand Canyon after successful cartilage transplant
It's one of his favorite activities to do despite ongoing knee pain issues that started when he was only 14.
"It's hard to explain, but when I go there I experience some kind of epiphany. I look at it as the poor man's Mount Everest," Hall said.
Hall hopes to hike the Grand Canyon a sixth time – maybe next year – this time without the pain in his right knee that had him popping up to eight Advil a day and taking other prescription pain medications.
Hall, a retired electrician due to disability, two years ago underwent a little-known procedure called a cartilage transplant to treat his debilitating knee pain.
The procedure is typically performed on younger patients with cartilage loss due to osteoarthritis, said Hall's physician, Dr. Adam Yanke.
Yanke, who sees patients in the Munster office of Midwest Orthopaedics at Rush, said Hall was an excellent candidate for this procedure, which uses cadaver tissue in the damaged part of the knee joint.
It allows patients a faster, gentler recovery than a knee replacement, Yanke said.
"I'm pain free for the first time in 40 years. You go through 40 years of aching so bad that you can't sleep that pain-free is foreign," Hall said.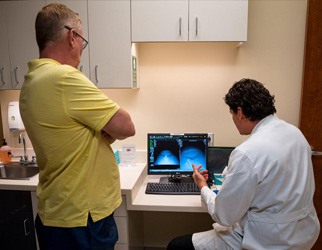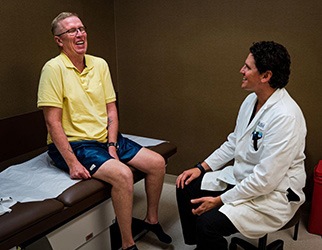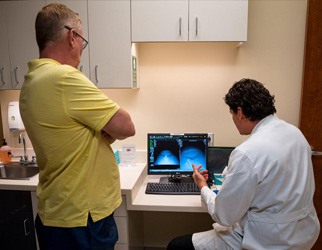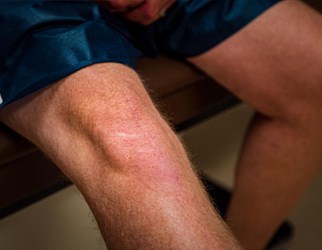 Please click here to read more.
Saline Injections for Knee OA: Likely Therapeutic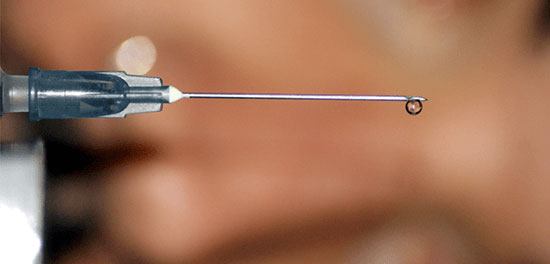 New work presented at the recent meeting of the American Academy of Orthopaedic Surgeons indicates that intra-articular normal saline (IA-NS) injections may indeed have a therapeutic effect. The meta-analysis, entitled, "The Therapeutic Effect of Intra-articular Normal Saline Injections for Knee Osteoarthritis," appeared in the December 27, 201+ edition of The American Journal of Sports Medicine.
The authors, Bryan M. Saltzman, M.D., Timothy Leroux, M.D., Maximilian A. Meyer, B.S., Bryce A. Basques, M.D., Jaskarndip Chahal, M.D., F.R.C.S.C., M.Sc., Bernard R. Bach, M.D., Adam B. Yanke, M.D., Brian J. Cole, M.D., M.B.A., were from Rush University Medical Center in Chicago and the University of Toronto in Canada.
Dr. Yanke commented to OTW, "Increasingly, new injection products are coming to market for the treatment of symptomatic osteoarthritis. The concern is that while many injections have been proven to be safe, we have a paucity of data on the efficacy of these treatments. Typically the highest level of study to evaluate this is a randomized prospective study with a known control or existing treatment. While in some ways, proving new treatments are better than existing treatments may be adequate, many trials have a placebo control to the study. This placebo treatment is typically saline only and theoretically should have no therapeutic effect. In reality, some treatments are demonstrating that they do not yield more improvement than placebo, but this is not for the reasons one may expect. When you drill down deeper, it turns out the saline groups show clinically meaningful improvement in their symptoms as well. As more trials are developed to try to bring new products to market it is important to make sure we are truly using the negative control that we believe we have."
Please click here to read more.
Campaign to Prevent ACL Injuries
Dr. Verma is discussing the escalating number of ACL injuries he is seeing in young athletes (especially in young girls) and a new statewide program initiated by Illinois athletic trainers and the doctors at Midwest Orthopaedics at Rush urging coaches and athletic directors to conduct ACL injury screenings and prevention programs for young athletes (especially girls who play soccer, bball, lacrosse, volleyball, gymnastics). Studies show that young players can reduce injury by 72 percent if they participate in a prevention/strength training program.
Rush Stories: Dr. Cole, Dr. Weber Chicago Bulls' Story
MOR Sports Medicine Physicians Dr. Brian Cole and Dr. Kathleen Weber describe what it's like to be treated like a Chicago Bull.
From Rush University Medical Center "Rush Stories."
View Chicago Bulls' "Rush Stories" Video
The Chicago Bulls aren't just any organization looking to keep their employees healthy: They're a multimillion dollar pro sports team with a legacy of championship basketball. So, when a player gets injured, they're looking courtside for the best sports medicine team possible. Which means they're looking for doctors from Rush University Medical Center.
A tap on his head from the Bulls' head athletic trainer Fred Tedeschi sends in Kathy Weber, MD, dually trained in sports medicine and internal medicine, for medical concerns such as a concussion or dehydration. A tap on his knee sends in head team physician Brian Cole, MD, or one of the other team physicians. An orthopedic surgeon and internal medicine physician are on hand for all of the Bulls' home games.
"Player injuries in the game – that's when my blood pressure goes up," says John Paxson, executive vice president of basketball operations and former world champion player for the Chicago Bulls.
"It's important for the players to know we have their best interests at heart and that we're doing things the right way. The only way you can do that is if you have the best medical team," he continues. "It shows them we've got the best possible plan in place to get them healthy and back on the floor."
In 2004, the Bulls selected orthopedic surgeons and internal medicine physicians at Rush to provide expert care to their organization. In fact, the orthopedic program at Rush is consistently ranked among the best in the nation according to U.S. News & World Report and is the top-rated program in Illinois. As sports medicine specialists, these physicians treat everything from broken bones to torn anterior cruciate ligaments and rotator cuffs. And because they are also researchers at a leading academic medical center, they are able to offer the Bulls—and weekend warriors alike—advanced treatment options not widely available.
They also take care of the entire Bulls family: the players' families, employees of the Bulls, the Chicago Luvabulls cheerleaders and even team mascot Benny the Bull. "Benny is a tremendous athlete," says Cole. "We've had a few times where he's had to be taken care of to get him quickly back out doing what he loves to do."
Cole credits the success of Rush's relationship with the Bulls to similar organizational cultures. "When you look at the Rush culture and compare it to the Bulls organization, they're both really a family environment," he says. "We can truly be allowed to be doctors and make decisions that are in the best interest of the athlete, all the while being mindful that the primary goal is getting them back to play as quickly—but as safely—as possible."
In 2009, Cole received the National Basketball Association's Team Physician of the Year Award, proof of what the Bulls organization already knew about their choice for medical care: "I used to think the care my athletes were getting was extraordinary until two of my friends went to Rush for orthopedic care. They were treated the same way that my athletes are treated," says Tedeschi. "The same care that's available to the Bulls is available to the general population."